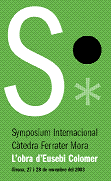 L'any 2003, el Pare Eusebi Colomer hauria complert 80 anys. Aquest simposi sobre la seva obra - que coincideix amb el sisè aniversari de la seva mort- vol contribuir a donar a conèixer el seu pensament i a fomentar la recerca sobre la seva obra.
En el año 2003, el padre Eusebi Colomer habría cumplido 80 años. Este simposio sobre su obra -que coincide con el sexto aniversario de su muerte- quiere contribuir a difundir su pensamiento y a fomentar la investigación sobre su obra.
At 2003, Eusebi Colomer would have been 80 years old. This Symposium -coincidental with the sixth anniversary of his death- wants to contribute to spread his thought and to foster the investigation on his work.
Programa:
Dijous, 27 de novembre
Eusebi Colomer, professor i historiador de la filosofia
El sentit del diàleg en l'obra d'Eusebi Colomer
Teilhard de Chardin i el diàleg fe-ciència. Debat
La interpretació d'Eusebi Colomer sobre Nicolau de Cusa
Divendres, 28 de novembre
L'aportació d'Eusebi Colomer als estudis de pensament català medieval
De Kant a Heidegger: la recepció del cristianisme en la filosofia moderna
El diàleg amb l'ateisme modern. Debat
La relación entre filosofía y teología
Humanisme i transcendència en l'obra d'Eusebi Colomer
Càtedra Ferrater Mora. Universitat de Girona. 2005.